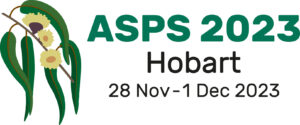 Australian Society of Plant Scientists Conference, UTAS, Sandy Bay, Hobart.
Tuesday 28 Nov – Friday 1 Dec 2023.
Tasmania's beautiful scenery, food, wine and culture await!
General enquiries: asps.hobart2023@gmail.com
---
Award
Awardee
Jan Anderson Award
Dr Caitlin Byrt, ANU
RN Robertson Award
Prof Kathleen Soole, Flinders University
Peter Goldacre Award
Dr Tatiana Soares da Costa, University of Adelaide
Functional Plant Biology Best Paper Award
Dr Babar Shahzad, UTAS
Annals of Botany Lecture
Dr Christine Faulkner, JIC
Teaching Award
Dr Robert Sharwood, Dr Michelle Mak, Dr Jayakumar Bose, Mr David Randall, Dr Jing He, Prof Oula Ghannoum, and Prof Zhonghua Chen

Western Sydney University
Registration is now open – click here.
Member student

or

Retired ASPS member (select student option)

Non-member student
Non-student Member
Non-student non-member
Late (closes 7th November)

Poster presentations only

$250
$300
$400
$500
Dinner
$60
$100
Are you an ASPS Member? Did you know membership plus registration is cheaper than registering as a non member?
Check your ASPS membership and join up here.
Annual General Meeting ASPS Thur 30th Nov 2023.
Social program
Lunch for student speakers with invited speakers (Tues 28th Nov).
Welcome BBQ (Tues 28th Nov) and final day pizza lunch (Fri 1st Dec).
Poster cocktail evening (Wednesday 29th Nov) and lunch session (Thur 30th Nov).
Guided bush walk/visit to Royal Tasmanian Botanical Gardens/Botanical Paint and Sip (Wed 29th Nov, additional cost).
Conference dinner at beautiful TMAG– Tasmanian food, wines and music (Thur 30th Nov).
Sandy Bay UTAS campus is about 7 minute car trip from Hobart CBD/wharf area and is connected by a regular bus service (approx. every 10 mins, 15 minute trip) from Hobart Bus mall stop Stop 3, Davey St.
---
Abstract submission
Within a day or two of registering you will receive an email from asps.hobart2023@gmail.com with abstract submission instructions (check your junk if you do not receive)
Use this abstract template SessionNumber_Surname
Oral presentation abstracts due Tues 26th September 2023 (early bird poster abstracts also welcome)
Poster presentations abstracts due Tues 7th November 2023
Abstract enquiries: asps23abstract@gmail.com
---
Sessions
| | | | |
| --- | --- | --- | --- |
| Number | Session | Chairs | Invited speaker |
| 1 | Teaching, outreach and indigenous science session | Georgia Koerber, Beth Loveys, Megan Shelden | Kris Schaffer, Indigenous Horticulturist, Tasmania |
| 2 | Plant nutrition and beneficial plant-microbe interactions | Eloise Foo, Stephanie Watts-Fawkes | Dugald Reid, La Trobe |
| 3 | Plant evolution and ecology | Danielle Way, Ben Halliwell | Greg Jordan, UTAS |
| 4 | Drought and heat stress | Tim Brodribb, Nipuni Thanthrige | Brendan Choat, WSU |
| 5 | Cell walls and defence | Kim Johnson, Julian Greenwood | AoB Lecturer- Christine Faulkner, JIC |
| 6 | New technologies in plant biology | Peter Waterhouse, Marina Oliva | |
| 7 | Plant modelling across scales | Alex Wu, Caitlin Moore | Xinguang Zhu, CAS |
| 8 | Plant development | Christine Beveridge, Nouman Sohail | Christine Beveridge, UQ |
| 9 | Stress sensing and signalling | Sergey Shabala, Frances Sussmilch | Ashwani Pareek, Jawaharlal Nehru University; Sabine Carpin, University of Orléans, Joerg Kudla University of Munster. |
| 10 | Earth and beyond: Plants in extreme environments (open to the public session) | Brett Williams, Jenny Mortimer | Gioia Massa, NASA |
| 11 | Student-led session* | Hahn Vo, Chris Buckley | |
* This is for student presenters ONLY. Students are welcome to present in any session. The student-led session is run by students and is for student speakers only covering all topics. The student-led session will be attended by all conference delegates.
---
---
Early-Mid career post-PhD scientists (<10 years since completion of PhD) to attend and present at ASPS2023 in the "Plant modelling across scales" session ONLY.
The successful applicant will be invited to present their work in the "Plant modelling across scales" session, and to submit this presentation, with additional material as appropriate, for subsequent publication in in silico Plants.
Thanks to New Phytologist for sponsoring
Best Early Career (<10 years post PhD) talk award $250 cash
Best Student talk $250 cash and poster award $150 cash
---
ASPS2023 is proudly sponsored by:
Gold Sponsors
Silver Sponsors
Annals of Botany Lecture