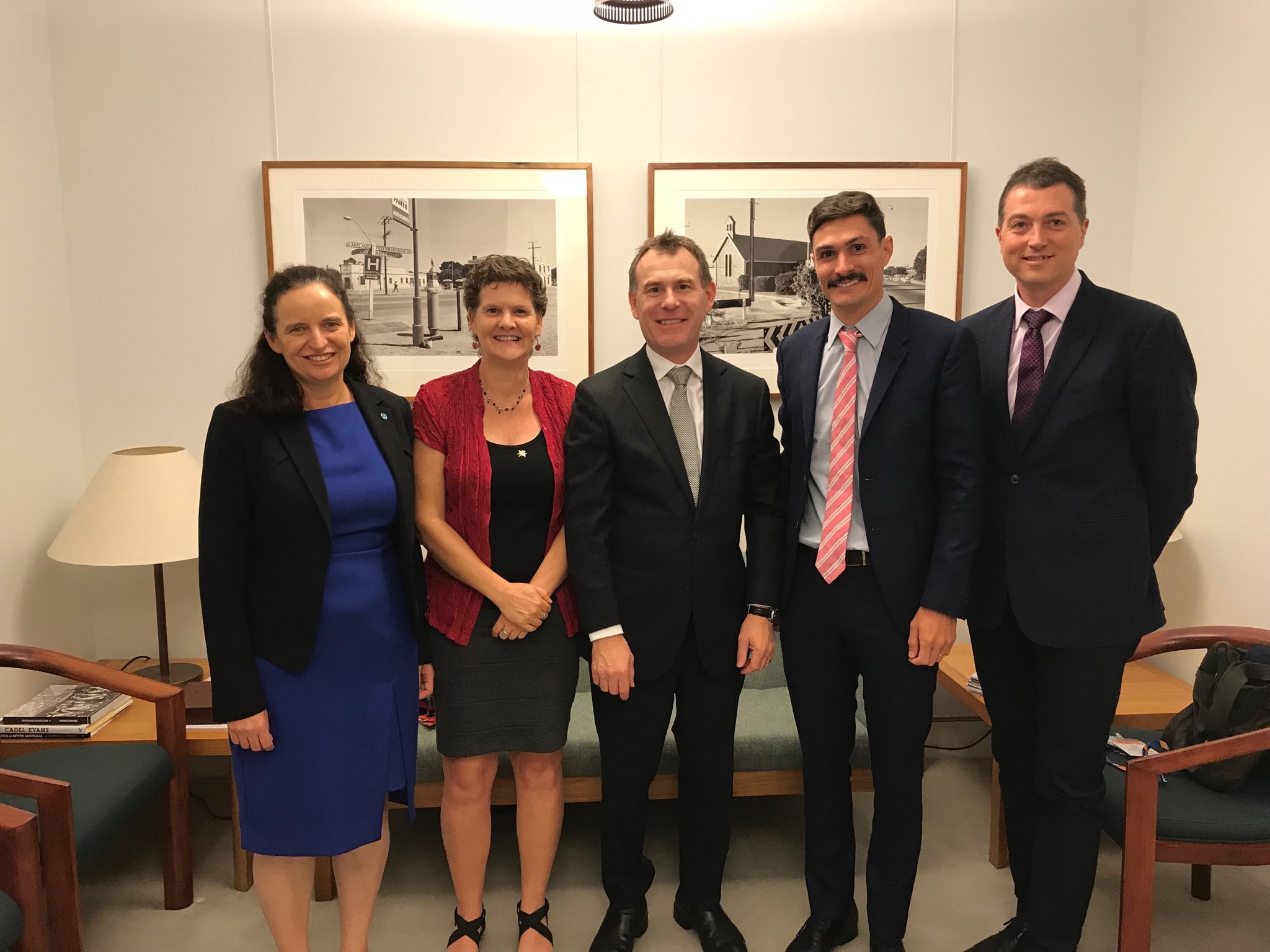 Mike Haydon (second from right) with Nick Champion (middle) and Rachel Burton (second from left).
Mike: I had the pleasure of representing the ASPS as a delegate at Science meets Parliament in February 2018, a major annual event organised by Science and Technology Australia. I enjoy the circus that is Australian politics and so it was quite a thrill to get some insight into the 'Canberra bubble'. The first day was at the National Gallery of Australia and included talks, networking and panel discussions on science policy and engagement, involving our Chief Scientist, prominent science communicators and experienced lobbyists. In the evening, we attended the Gala Dinner in the Great Hall in Parliament House, where we mixed with MPs and were addressed by the then Opposition Leader, Bill Shorten, and the Minister for Jobs and Innovation, Michaelia Cash. This was before the infamous whiteboard incident and subsequent controversies.
On day two we attended Parliament House. There was a program of presentations from parliamentary science advocates including Kim Carr, Adam Bandt, Karen Andrews and Richard Marles, each making promises about supporting science. The major feature of SmP is the opportunity to meet with Parliamentarians in small groups. Together with Rachel Burton, I spent a relaxed 30 minutes with Nick Champion, the Assistant Shadow Minister for Science. We enjoyed lunch at the National Press Club, during which we were passionately addressed by Emma Johnson, the Presidentof STA, about the importance of supporting Australian science. In the afternoon, we were entertained by the interrogation of Barnaby Joyce during Question Time over his living arrangements.
I greatly valued the opportunity to attend SmP on behalf of ASPS. It provided a new perspective on how to contribute to science policy, presented novel networking opportunities and was a great experience to be inside The House.
To finish, have a look at #tsbakeoff and @TSCommissioner for Australia's threatened species of plants and animals.