Welcome to Phytogen for August 2022. It is getting closer now to ComBio2022 in Melbourne next month. Below are several wonderful reports from ASPS2021 to inspire your talk and poster preparations for ComBio2022. Also remember to book tickets for our dinner:

Dear ASPS members,

ASPS will hold a dinner for Society members during ComBio 2022 following our AGM on Thursday 29th September.

This will be a two-course dinner including some drinks at Melbourne Public in the Docklands a short walk from the Conference venue.

The ticket prices for members are subsidised by the Society:

Students members for $30

Other members for $60

Additional tickets can be purchased for $90

Tickets are limited, so don't delay. Book today

HERE

.

Please indicate any dietary requirements when booking your ticket.
Book ASPS dinner tickets
HERE.
Here is Simon Williams, one of the organisers of ASPS 2021, ANU.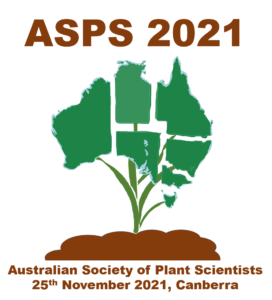 "It was fantastic that, after such a long hiatus, we could organise a meeting that incorporated local face-to-face interaction with a national vibe, via the virtual awards session presentation. A sense of comradery was formed (and welcomed) working across states and territories with motivated, hardworking plant science-ASPS colleagues. The Hybrid-ASPS meeting was a great event for our society, providing an opportunity, particularly for EMCRs, to showcase their important plant science research."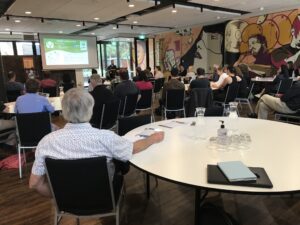 Aaron Phillips, University of Adelaide.
I started my PhD under Professor Rachel Burton in 2019 at the University of Adelaide. Soon after, as the world came screeching to a halt due to the pandemic, there were many uncertainties. Chief amongst them was not knowing when the academic world would resume face-to-face conferences. It seemed like we had to bear the burden of a mostly digital existence for a lifetime. But then an exciting email arrived, letting us know about ASPS2021 – an in-person conference, with nodes operating in all major cities around the country! What a fantastic opportunity this would be for the students of the pandemic to spread the word of their research and finally get some networking under our belts. And we were not disappointed!
ASPS2021 was the first conference I was able to attend during my candidature. This two-day conference really had it all – from understanding sub-cellular processes involved in osmotic stress, to the challenges surrounding growing plants in space, to learning how to be more effective plant science teachers. As this was my first conference, one of the biggest highlights was being able to present and discuss some of my research from the preceding two years. I had the opportunity to present a poster and talk about my work on wild rice (Oryza australiensis) abiotic stress tolerance and genome sequencing. I was incredibly nervous, but I'm so glad to have had this opportunity as I met and had interesting discussions with some wonderful people from other institutions who were able to shed new light on my findings. I value the connections made at ASPS2021 highly and look forward to the next face-to-face event immensely!
Pieter-Willem Hendriks, Charles Sturt University.
How good was it to finally meet people in person again? After two years of Covid19 forced online conferences. The ASPS2021 meeting was my first opportunity to listen in person to other scientists' presentations and give a presentation on my PhD research. The introduction by president Peter Ryan was genuinely inspiring. He was questioning why plant science may seem to be ignored while it will be so crucial in the next few decades to answer critical questions such as food security for an increased world population combined with climate change challenges.
Besides the possibility of networking with local scientists, it was also an excellent opportunity to present the work from my thesis. It was a highlight to have dinner with senior scientists and receive their constructive observations and questions. This will have helped me set up my thesis's last year and made me think about how to construct my final discussion.
I enjoyed the scope of the research presented in the morning by fellow researchers. The breadth of presentations went from subcellular structures such as aquaporins all the way to broad field breeding. It was great to see the work and passion of fellow early career and PhD students. I particularly enjoyed the reward talk for the Education and Outreach reward from Dr Kim Johnson and Dr Monika Doblin. Their way of bringing science to young students was inspiring.
Fiona Kang, PhD candidate, School of Biosciences, The University of Melbourne.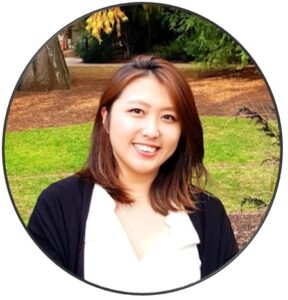 Having the opportunity to speak at the ASPS 2022 Victorian node meeting was experiencing the best of both worlds.
I had the comfort and flexibility of attending an Australia-wide conference at my doorstep, the opportunity to network with the local plant research groups in-person and to tune-in to the major advancements in the field of plant science happening all-across Australia. It would've been a technologically mammoth effort pulled by the organisers but as an attendee it was such a rewarding experience after a difficult and isolating pandemic. I had the pleasure of presenting my research, followed up by an invigorating, fruitful discussion that has had an overwhelmingly positive impact on my research. As a co-chair of the student session, I also had so much fun connecting with my fellow graduate students from different universities. We not only spoke about our research but shared stories of our dilemmas and accomplishments to be reminded that we are sharing the graduate study experience together. The ASPS2022 meeting certainly reaccelerated my motivation and passion for research and I look forward to their next conference.
To those of you who has made it this far and is wondering what I do for research, I study plant cell wall biosynthesis in a basal land plant, Marchantia polymorpha. My end goal is to modulate the cell wall sugar composition to better equip plants to tolerate the conditions that is becoming exceedingly unpredictable due to climate change.
Willem Joubert, University of Adelaide.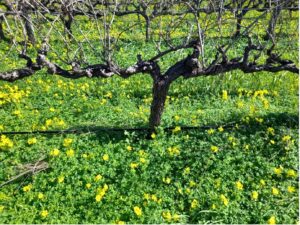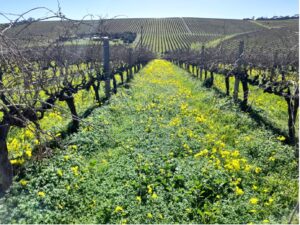 I attended Phytogen in Adelaide 2021 during my final year of completing a Bachelor of Viticulture & Oenology and was lucky enough to present the work undertaken in my honours project in poster form.
Attending the conference allowed me to connect with others in the plant science community, as well as provided me with insight into research being conducted to address issues in industries other than the wine industry.
It was a real privilege to present results from my honours project in poster format, along with a short presentation addressing conference attendees. The experience allowed me to build confidence in communicating the results of my work and the response of other attendees taking an interest in my work was quite uplifting.
I would strongly urge any student to take part in ASPS events if provided with the opportunity. It is a fantastic opportunity get a broader perspective on current and future research being conducted in the field of plant science. Not to mention the great networking opportunities and spectacular food provided by the ASPS!
Kate Johnson, University of Tasmania.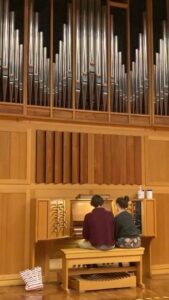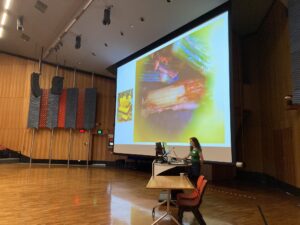 In 2021 members of the plant science community at the University of Tasmania gathered in a lovely lecture theatre (with a pipe organ!) to share our research as part of the ASPS 2021 conference. This was a wonderful experience. The talks were diverse with topics ranging from plant evolution and ecology to physiology, fungi and soil. While conference attendees met in separate groups, in capital cities around the country, we were connected virtually by social media with attendees sharing pictures and updates via Twitter. 
I presented research from my PhD on non-invasively tracking drought-induced damage to trees. I did this by attaching a number of cameras to the terminal branchlets of potted trees of drought-resistant Australian species Callitris rhomboidea. These cameras continuously captured images as I dried these trees (and monitored their water stress) to quantify the timing and spread of drought-induced damage across their canopies (here's the article if you're interested: https://nph.onlinelibrary.wiley.com/doi/abs/10.1111/nph.17786).
I've been lucky enough to attend a number of international conferences and am currently researching in the USA, but I feel that Australia's plant science research is world-class. With amazing natural and agricultural systems and excellent research facilities, Australian researchers are addressing some of the biggest questions we still have about plants with great expertise and enthusiasm. It was wonderful to see some of this research, much of it led by ECRs, showcased at the ASPS conference. As an ECR, I'd highly recommend that other ECRS (and people at all levels of course) attend Combio2022 and other Aussie conferences!
Rose Zhang, Honours Student, Research School of Biology, ANU.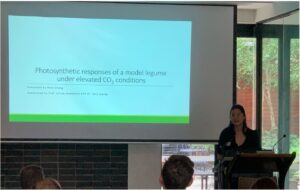 During the third year of my undergraduate degree, I was encouraged by my research project supervisors to submit a talk for the Canberra node of the 2021 Australian Society of Plant Scientists conference. As the only undergraduate student attending the conference, I was a little nervous about presenting in front of so many experienced PhD students and distinguished academics. It turned out that I didn't need to feel nervous at all as everyone I spoke to was interested and encouraging of my research project! The 2021 ASPS conference was the first large-scale in-person academic event I'd attended since the COVID pandemic, and it was incredibly rewarding to be able to engage and network with others in the plant science community.
The diverse range of speakers during the conference provided me with a chance to learn about the exciting research that was happening all around me. Thanks to the presentations of Dr Samantha McGaughey and Dr Annamaria De Rosa, I learnt all about the amazing world of plant aquaporins and am now working on characterising the function of aquaporins in legumes for my Honours year! Not only did the 2021 ASPS conference provide me with a chance to develop my presentation skills in front of a supportive and engaged audience, but it connected me with academics who later became my Honours supervisors. All in all, I would strongly encourage students at all stages of their scientific careers to attend future ASPS conferences!
Na Sai (Charlotte), University of Adelaide.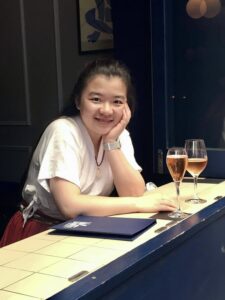 "If computers can take everyone else's jobs, I am sure it can take one of mine." This initial thought brings me to the development of StomaAI (SAI) – the AI assisted stomata measuring system for barley and Arabidopsis microscope images. I feel honoured to be the speaker to present part of my PhD work titled "StomaAI: Fast automated quantification of stomatal parameters" at the Australian Society of Plant Scientists (ASPS) 2021. Thank ASPS provide this great platform and chance for me to introduce SAI to the community and hear feedbacks.
The experience at ASPS 2021 was wonderful and unforgettable. I realised how amazing plant science could be through communicating with conference attendees when they told me about their research. The exchange of ideas via these conversations during the breaks and dinner was enriching. I learn new things about other fields that are out of my own research area which are plant stomata with GABA regulation and bioinformatics. I also enjoyed the talks as they are quite interesting and stimulating, and inspired me with new ideas.
ASPS 2021 opens up a fantastic opportunity for networking with great Australian plant scientists and promotes potential collaborations in the community. Thank the ASPS organising committee for making a such delightful event happen.
Shanice Van Haeften, PhD candidate, Queensland Alliance for Agriculture and Food Innovation, University of Queensland.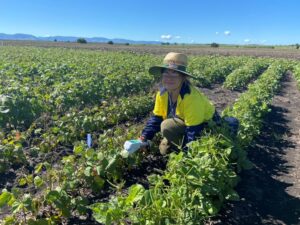 Unfortunately, starting my PhD during the peak of COVID-19 had meant that I was only able to attend conferences and symposiums online. Although this was a great way to hear about research in my field, it also meant that there was not a lot of opportunity to connect and engage with fellow researchers. 
 The Australian Society for Plant Scientists (ASPS) Conference, held at the Queensland University of Technology in November 2021, was the first in-person event I was able to attend during my PhD. At this conference I was given the opportunity to present my research during their lightening talks session which gave presenters 5 minutes to discuss their work. This experience provided me with the challenge of trying to effectively communicate my research in a concise manner to an audience with a diverse research background. Hearing from others in this session and developing my own talk, I learnt a range of new strategies and techniques on how to share my research in an engaging manner. 
Attending this conference was also an amazing opportunity to network with plant scientists from across the region as well as hear about plant science research occurring in other states through the live stream component of the conference. Overall, attending this conference provided a valuable experience to learn and connect with like-minded individuals in the field of plant science as well as gain new insights that are of value to my own research. 
Lina Herliana, University of Adelaide.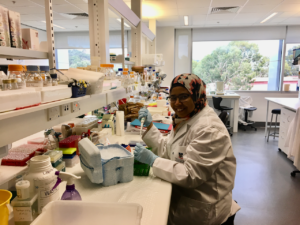 Attending ASPS 2021 (Australian Society of Plant Scientists) was a rewarding and memorable experience. I am Lina Herliana, an international student from Burton Lab at the University of Adelaide. I have studied the molecular mechanism underlying Plantago ovata (psyllium) seed and fruit development since mid-July 2018 under the supervision of Prof Rachel Burton, Dr Tina Bianco-Miotto and Dr Nathan Watson-Haigh. I would like to express my gratitude and appreciation to the University of Adelaide for sponsoring me with a generous scholarship and Prof Rachel Burton for supporting all my PhD projects, including attending this meeting. ASPS conference in 2021 was unique because it was a hybrid conference. Each state has in-person presentations on the same days, including Adelaide, on 25-26th November at National Wine Centre. Due to the Covid-19 pandemic restriction, we could not gather in one place as the previous year. However, I was still delighted because I had a chance to attend a face-to-face meeting in Adelaide during my final PhD year before returning to Indonesia. In total, there were 16 speakers and ten posters. Listening, learning, and talking about plant science was a thrilling experience. I was honoured that I had been selected to deliver a presentation. My talk was "De novo Genome Assembly and Annotation of Plantago ovata". I explained the process of generating a reference genome and how we can use it to accelerate the P. ovata breeding program. This work was a foundation for studying the molecular mechanism behind mucilage production and shattering mechanisms.
Joanah Midzi, University of Adelaide.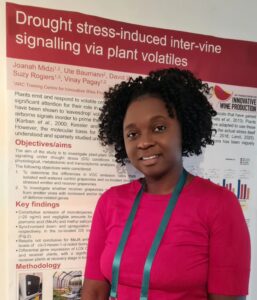 As a PhD candidate, supervised by Dr Vinay Pagay at the University of Adelaide, I had the privilege of attending the ASPS 2021 meeting. I was excited to have been selected to present a poster on my research study entitled: 'Drought stress-induced inter-vine signalling via plant volatiles'. The main focus of my study is on the role of volatile organic compounds (VOCs) as chemical signal molecules facilitating plant communication in grapevine. Understanding the mechanisms involved in VOCmediated interactions and identifying the specific VOCs responsible for defence priming could underpin sustainable and eco-friendly plant-protection strategies against both biotic and abiotic stressors in agriculture. The opportunity to interact with other post-graduate students interested in plant communication, as well as networking with seasoned researchers in the field, made the symposium the ideal platform for scientific exchange, which I believe is very important for early-career researchers as myself. The highlight of the day for me at the conference was that I was able to showcase may research and receive great feedback from eminent scientists who had the chance to view my poster. I would like to extend my gratitude to the ASPS committee for the opportunity to attend the ASPS meeting and I look forward to attend similar conferences before completing my PhD studies. As an ASPS student member, I have been fortunate to be awarded an ASPS post-graduate travel grant to attend yet another exciting academic forum, ComBio 2022 (Melbourne), where I will once again present my results on a poster.
Zane Marks, Honours Student, University of Adelaide.
My name is Zane Marks and in 2021 I took part in the ASPS conference as an honour's student, preparing both a poster and short talk. This being my first time presenting in a professional capacity, there was a lot of research into what information I needed to present and what to say. I presented my research on the effect of seed priming on hemp and barley germination. As I was near the end of honours this provided a good opportunity to get to know fellow researchers as well as find out what options were available to me post-graduation. There were some incredible insights from the GDRC about the acquisitions of scholarship. There were some very refreshing and realistic insights from university scholars into the future of both industry and academia. The presentations themselves were incredibly impressive ranging from AI developed recognition of organelles within a cell to the nutritional content of Plantago. As my poster went up there was no shortage of people curious about my work and my understanding of the significance of my results. This also gave me good insight into possible avenues for investigation as well as just general ideas both careerwise and how to handle myself in a professional setting. Overall the conference was a valuable insight into the future of research and what career paths are available to young scientists.
Lauren Philp-Dutton, Flinders University of South Australia.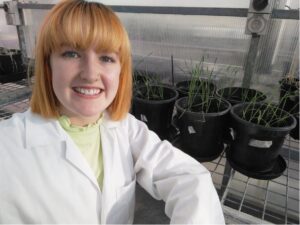 Last year I attended the ASPS conference at the National Wine Centre in Adelaide where I got the opportunity to present some of my research in the form of a poster. My PhD has focussed on mitochondrial alternative pathway and the role it plays in abiotic stress tolerance in bread wheat. It was great to be able to share some of my findings with other plant scientists and thank you to the APPF and ASPS for awarding me the best student poster! I also got the chance to co-chair one of the sessions which was something I had never done before and pushed me out of my comfort zone, but it turned out to be quite enjoyable as well as a great learning experience.
The conference was an excellent opportunity to talk and network with other researchers interested in plant science. I really enjoyed listening to the talks and looking at the different poster presentations on such a wide range of plant research. It's amazing to see how broad of a field plant science really is. I also particularly enjoyed the EMCR plant science forum, its always so interesting to hear about how other scientists started and progressed in their research career, and the different pathways they have taken.
The ASPS did a fantastic job of hosting the conference during such a difficult time. If you can, I highly recommend attending the next ASPS conference next year in Tasmania!
Vanessa Tonet, PhD candidate, Discipline of Biological Sciences, University of Tasmania.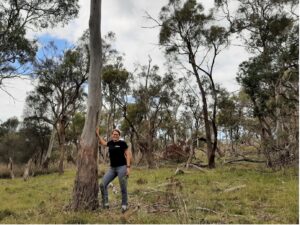 ASPS21 was the first conference I was allowed to attend in real person and I had the great opportunity to share some exciting results with other plant scientists in Hobart, Tasmania. I gave an oral talk that initiated a very stimulating conversation around leaf water transport system. As the environment is getting dried and drier, plants need to face more intense and more frequent drought events that impact their fitness and survival. We are now assisting to unprecedented rates of tree mortality. Understand how water moves through leaves and how they respond to dehydration is the major goal of my research.
This conference was a great opportunity to refine my skills as an oral presenter, and I'm glad the environment was friendly even if professional. At ASPS21, I was able to meet many scientists with different backgrounds but that can collaborate to bring together exciting discoveries, unravelling the fantastic world of plants.
Sam Henderson, Postdoctoral Researcher, School of Agriculture, Food and Wine, University of Adelaide.
The 2021 ASPS meeting was held at the National Wine Centre in Adelaide in November. This was the first time in two years that I attended a face-to-face conference due to the pandemic. It was good seeing many familiar faces in person and meeting several plant scientists who have moved to Adelaide recently.
I was fortunate to be selected to present unpublished research on the plant electroneutral cation-chloride cotransporters, which I first began studying at the University of Adelaide in 2010. Thanks to the ASPS and the local organising committee for their support and for giving me an opportunity to share my work.
Some highlights of the meeting included a great talk by Sunita Ramesh on the mechanisms of anion and GABA flux through the wheat ALMT1 protein, which is important for abiotic stress tolerance. Sunita has pioneered the rapidly expanding field of plant GABA research as it relates to ion channel function. Another interesting presentation was given by Jiaen Qiu, describing how water and ion conductivity of the aquaporin PIP2;1 is regulated, including the potential involvement of intracellular loop D. This would represent remarkable conservation between plants and animals, as the analogous loop D in human aquaporin-1 also regulates its activity.
The local organising committee, led by Megan Shelden, did a wonderful job delivering a high quality, professional symposium. I was pleased to re-join the Australian plant science community and was impressed by the kindness and inclusivity of our ASPS members.
See you in Melbourne soon …..    https://www.combio.org.au/combio2022/
#ComBio2022 The Programme Timetable, Plenary and Symposium Schedule's are looking great.

Please login and check your ASPS membership is up to date. Encourage your colleagues and students to join ASPS.
Tweet to @asps_ozplants your news and upcoming events and follow to keep up to date.