THE FULL PROGRAM AND FREE REGISTRATION ARE NOW OPEN for:
ACT Mass Spectrometry Symposium 2017, Tuesday November 28, 2017.
Get in QUICKLY because seats a strictly limited!
Description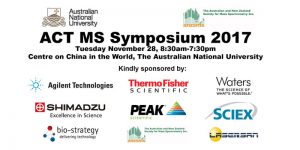 The ACT Mass Spectrometry Symposium is intended as an interactive forum for experts and novices to discuss the application of mass spectrometry to solving problems and to allow the dissemination of current and future trends in the technology. The speakers represent academic and commercial backgrounds and will cover a wide range of applications as can be seen in the programme below.
Programme
8:55 am WELCOME
9:05 am Clayton Ross (Shimadzu):
Shimadzu GCMS TQ-8050 – Speed Without Compromise (Simultaneous MRM, SIM and SCAN)
9:30 am David DeSouza (Metabolomics Australia, VIC):
Comprehensive Metabolite Profiling by GC-QQQ: A Change in Approach
9:55 am Chris Fouracre (Agilent Technologies):
Revealing the New Ultivo Triple Quadrupole LC/MS
10:20 am David Beale (CSIRO Land & Water, QLD):
Expanding Characterization of Environmental Pollution and Ecosystem Health Using Metabolomic Approaches
10:45 am MORNING TEA BREAK
11:15 am Steve Binos (Thermo Fisher):
Orbitrap DIA; Beyond ID's for your Proteomic Needs.
11:40 am Rikard Hedman (ANU Research School of Chemistry, ACT):
Detection of Sulfate Conjugated Compounds by Untargeted Mass Spectrometry
12:05 pm Nicole Pendini (Peak Scientific):
Gas Generators: the Safe Onsite Alternative to Cylinders and Dewars
12:30 pm LUNCH BREAK
1:30 pm Chris Hodgkins (AB Sciex):
SelexION®+; Improving Triple-Quadrupole Selectivity with Differential Mobility Spectrometry (DMS) to Reach Lower Limits of Quantitation.
1:55 pm Steve Van Sluyter (Macquarie University, NSW):
Absolute Quantification of Leaf Proteins on a Continental Scale Using SWATH
2:20 pm Heather Patsiouras (Waters):
Ion Mobility MS: Extending the Capability and Selectivity of MS
2:45 pm AFTERNOON TEA BREAK
3:00 pm Udo Rupprecht (Lasersan):
On-line Automated Sample Preparation for GC/MS and LC/MS
3:25pm John Foster (ANU Research School of Earth Sciences, ACT):
Development of Shrimp Ion Microprobe
3:50 pm Alex Donald (University of NSW School of Chemistry, NSW):
Highly Charged Protein Ions: The Strongest Acids to Date
4:15 pm Awards and Announcements
4:30-7:30 pm POST-SYMPOSIUM DRINKS and NIBBLES
 For More Information contact Adam Carroll