Submitted by: Arjun Pandey
PhD Candidate , School of Agriculture and Food 
The University of Melbourne
1. Tri-society conference in Tampa, Florida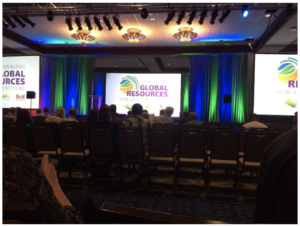 The American tri-society conference, "Managing Global Resources For A Secure Future", jointly organised by Soil Science Society of America, American Society of Agronomy and Crop Science Society of America was held in Tampa in Florida, USA, from 22-25 October 2017. Around 4000 scientists from around the world attended the conference.
I gave an oral presentation titled, Microbially mediated nitrogen loss and retention pathways in Australian rice paddies. The 15 minutes oral presentation was based on my experimental work during my PhD candidature. The presentation included my findings on the nitrogen loss and retention pathways in Australian rice paddies. Presenting my work in front of experienced scientists from around the world wasa unique experience for me. I also got some important questions and feedback during the discussion session after my presentation which helped me to think about my research findings in a broader perspective.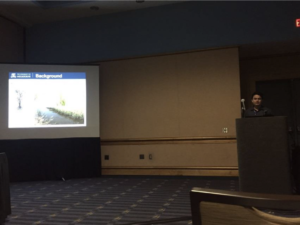 I met several scientists from around the world those who are working in my field of research. This provided me with the opportunity to build networks and to know the research activities being carried out in other research institutions. Lastly, I attended presentations from several scientist during the conference. This gave me an opportunity to learn about novel findings in the soil and crop sciences.
2. Visit to the Virginia Institute of Marine science (VIMS), Virginia, USA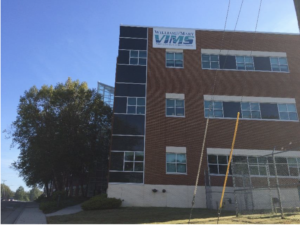 I visited Virginia Institute of Marine Science (VIMS; see photo) and stayed in the institute for two days during 19-20 October. Scientists in the VIMS are mainly focused on costal and estuarine sciences and also in grassland ecosystems. There are experts working in nitrogen (N) transformation in anaerobic soils and sediments using 15N isotopic tracing technique in the institution. I visited the institute to meet Associate Professor Bongkeun Song and his research team who are studying N transformation using 15N isotope tracing technique. This is one of the techniques I have been using in my PhD research work.
I had an excellent meeting with Associate professor Bongkeun Song, whom is working on nitrogen transformation pathways in various ecosystems including agroecosystem. He is an expert on using 15N tracer to quantify nitrogen transformation pathways. I was in contact with Bongkeun for the last two years through emails and I had frequent discussion on my research methodology with him. I met with Bongkeun Song on the 20th of October, 2017. We had a discussion on my research, in particular on the research methodology and outcome of my experiments. I got some valuable inputs from him on my research work. A/Professor Bongkeun took me around his laboratory and explained on the use of some recent Isotopic Ratio Mass Spectrometry (IRMS) instruments and their use in our research. We also discussed about possible collaboration in the future. I also met with few other researchers in the VIMS that are working in my research area. We had a discussion on the methods and instrumental application in our search. 
Acknowledgements: The financial support from the Plant Nutrition Trust Award provided me with a great oppurtunity to attend one of the most important confreneces in the area of soil and crop sciences. I would like to sincerely thank the trust.
Contact: arjunp@student.unimelb.edu.au