Australian Society of Plant Scientists at 60.
Why we need more women.
John R Evans
I have been fortunate in my career to have wonderful female colleagues and I spent a productive post doctoral fellowship in Jan Anderson's lab at CSIRO Plant Industry in Canberra. Over the years Jan told me some of the challenges she faced and how she overcame them – they were real eye openers for me, possibly from a different era. I regret not recording the conversations because I cannot do justice to their content.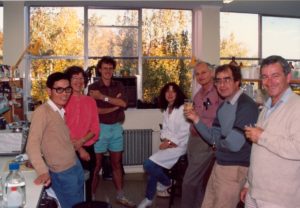 A celebration in Jan's lab, 1986, (left to right) Fred Chow, Jan Anderson, John Evans, Stephanie McCaffery, David Goodchild, Hugo Scheer and Bob Porra. I had an oxygen electrode setup behind the champagne drinkers with the usual array of toxic inhibitors on the open shelf, but I did wear a lab coat when doing assays. 
There is no doubt that Plant Science as a profession has discriminated against women in the past. While improvements have occurred, there is much more to be done. The SAGE initiative http://www.sciencegenderequity.org.au/ is one way Australia is trying to raise awareness and improve gender equity in science, but I have no doubt that the most effective way to drive change will be by tying it to funding.
At the inaugural ASPP meeting in Adelaide in 1958, there were a few women amidst the 60 men. Over the years there have been 4 women presidents of the society (Adele Millerd 1977, Jan Anderson 1992, Rana Munns 2008 and Ros Gleadow 2010). More recently, there has been a conscious effort to improve gender balance in our awards and for conference speakers. There have been 3 women out of the last 8 Goldacre awards (Uli Mathesius, Chanyarat Puangfoo-Lonhienne, Min Chen) and RN Robertson lecturers (Rana Munns, Susanne von Caemmerer, Jean Finnegan) and  2 out of the last 8 JG Wood lecturers (Sally Smith, Marilyn Ball) . This happened because the Executive Committee was finally paying attention, but vigilance must been maintained.
It is great to be able to mark the 60th anniversary of ASPS with the launch of the Jan Anderson award acknowledging research excellence by women in the 15 years after their PhD.
I would also like to pay tribute to the society's two female life members: Tina Offler and Rana Munns. For many years, Tina produced our newsletter Phytogen and continues to be an active member of the society. Rana has been driving the second edition of Plants in Action http://plantsinaction.science.uq.edu.au/  along with Susanne Schmidt and Christine Beveridge – an awesome threesome. For a small society, I reckon Australian Plant Scientists have not only created a great legacy of research, discovery and education, but we still have so much more exciting research to do that is fundamental to maintaining our agriculture and unique flora.