Count down to 60 years of ASPS
Dear ASPS members,
With about 6 weeks until ComBio 2018, make sure you check the website for a new post to Phytogen each Monday. This beginning post has been emailed to start you off and can be viewed at the ASPS website (https://www.asps.org.au/)
The posts will be :
Tuesday 14th August — The beginning
Monday 20th August — Thoughts from some of our leaders
Monday 27th August — Rewarding excellence
Monday 3rd September — Growing up within ASPS
Monday 10th September — Plants in Action
Monday 17th September — Why we need more women
We hope you will enjoy reading, hint: after this coming Monday's post, you will be able to like on our Society's Facebook page (https://www.facebook.com/ASPSozplants) post a pebble if you like and that will feed through to twitter also,
Kind Regards, the ASPS Website & Communications Sub-Committee (WSCS).
ASPP/ASPS  —  The beginning
We are in the process of writing a history of the Society planned for publication in 2019. This blog is a taste of the Society's beginnings, but we are aware of gaps in our narrative.  Should anyone have other relevant information that you would be willing to share, we would be most appreciative.
Tina Offler and John Patrick, University of Newcastle
The mid-1940s onward witnessed a burgeoning growth in plant physiology research spread across CSIRO, State Departments of Agriculture and Universities. It was within this environment that Bob Robertson (to become Sir Rutherford Roberson and affectionately referred to as Sir Bob), in 1957, proposed the formation of ASPP to a group of leading national-based plant physiologists (Neales 1994). The group agreed to convene a one-day meeting linked with the programmed Adelaide Australian and New Zealand Association for the Advancement of Science (ANZAAS) conference. The one-day event was held on August 19, 1958 at which 12 papers were presented by GA Atkins, Peter Brownell, Martin Canny, Jack Dainty, Alex Hope, Ned Krefford, Nick Marinos, JD McLean, John Pate, Dugald Paton, Bob Williams and Harold Woolhouse. At the inaugural General Meeting held that afternoon, chaired by Sir Bob, the ASPP Constitution was approved along with the election of Lance May (Adelaide) as Honorary Secretary, Les Paleg (Adelaide) as Honorary Treasurer and Joseph Garnett Wood (Adelaide) as the first President. There seems to be some disparity in reports of the number of delegates attending the meeting with 64 and 69 reported and the original record of attendees having 66 signatures. However, what is not in dispute is that many of the signatures on these fading sheets of paper are of those you will recognise for their significant contributions to Australian Plant Science and to our society. To name but a few: Bob Robertson, John Pate, Alan Walker, Lloyd Evans, Peter Brownell, Hal Hatch, Harold Woolhouse, Martin Canny and so it goes on and on…… 
The CSIRO/Botany School Unit, headed by Bob Robertson, and housed in the Sydney University Botany Department was the core from which ASPP grew and expanded. Bob Robertson's group comprised a dozen or so young plant physiologists who were to make major advances in our science, including Hal Hatch, Alex Hope, Jack Dainty (from Edinburg, UK), John Pate, Carrick Chambers, Don and Heather Adamson, John (F) and Donella Turner. Bob brought 14 of its members to Adelaide for the Inaugural Meeting, and it wasn't easy to get there!!  In his "recollections" written for the 50th anniversary of the society, Martin Canny recounts that Hal Hatch said to me (Martin),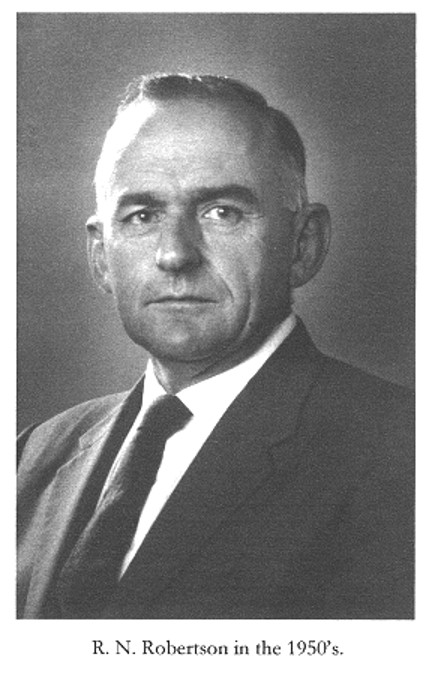 "Tell them how different it was, how difficult to get from Sydney to Adelaide."
Apparently, in order to attend the Adelaide meeting he (Hal) had taken two days in trains, overnight from Sydney to Melbourne, with a midnight change at Albury to accommodate a shift in rail gauge from 4 feet 8 1/2 inches (New South Wales) to the Victorian line gauge of 5 feet 3 inches, then another overnight trip to Adelaide, with yet another change in railway gauge down to 3 feet 6 inches at the Victorian/South Australian boarder. And, there are other similar stories.
In the following year, the plant physiology community was saddened by the untimely death of JG  (Joe) Wood (1900 -1959) just prior to the second meeting of ASPP convened in Sydney across three days. Sir Bob was elected as the second ASPP President, a position he served in until 1962.  ASPP/ASPS has honoured these two foundation presidents for many years through the JG Wood and Robertson Lectures, presented by invitation biennially at ASPP/ComBio meetings in alternate years.  Also, amongst the attendees at the inaugural meeting in Adelaide was a talented young plant scientist, Dr Peter Goldacre who tragically died in 1960 before being able to fulfil his full research potential. It is in his honour that the prestigious Peter Goldacre Award has been awarded to an outstanding early career plant scientist each year since 1965.
Neales Tom (1994). Our Society; An Historical Perspective. An early history of the Australian Society of Plant Physiologists. ASPP Membership Directory and reproduced (with permission) in Phytogen 11(2), 11-18.