While you are preparing your applications for the Jan Anderson award 2019, below are some words from Dr Eloise Foo, awarded inaugural Jan Anderson Award 2018. She writes about achieving balance in life and there are parallels to her research area of how plants and microbes navigate their dual existence, to read more: Strigolactones in Plant Interactions with Beneficial and Detrimental Organisms: The Yin and Yang, Juan A. López-Ráez, Ken Shirasu, Eloise Foo, Trends in Plant Science, DOI:https://doi.org/10.1016/j.tplants.2017.03.011
Applications for Jan Anderson Award 2019 close Thursday 28th February. Follow the link for more details.
Dr Eloise Foo, ARC Future Fellow, School of Natural Sciences, University of Tasmania
My research examines how plants form intimate relationships with soil microbes that give them access to essential nutrients. These relationships are ancient, widespread and often essential for plants to thrive in challenging conditions. I am fascinated with how plants and microbes communicate through chemical signals to negotiate these interactions. I absolutely love working in research, the intellectual freedom to observe, pose questions and then seek to answer them is such a creative and satisfying endeavour. I was so honoured to receive the inaugural Jan Anderson Award in 2018. Delivering the lecture at Combio 2018 to such a warm and supportive community was a true highlight and enabled me to reflect on the fantastic mentors and colleagues I have had. I feel real change is afoot to enable people to balance a research career with all the other great things in life (family, leisure time, community). This is not just to support women to navigate the challenging but rewarding path to a research career but also opens up a different way for everyone to lead successful and balanced lives.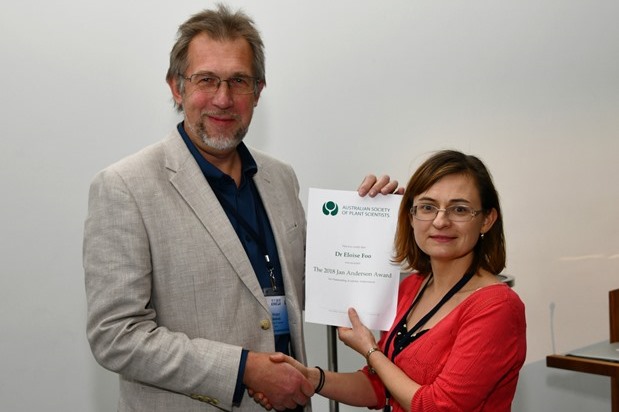 Dr Eloise Foo and Professor Sergey Shabala
Eloise.foo@utas.edu.au, http://www.utas.edu.au/profiles/staff/plant-science/eloise-foo