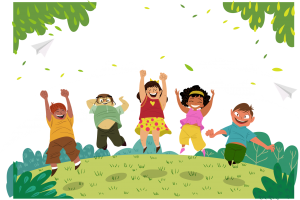 Welcome to Phytogen for May 2020. In this issue are reports from ASPS award lectures by Ros and Monika. Reflecting on both of these lectures has been especially enlightening and inspiring and hopefully you can draw some encouragement when considering the last few months and for the months to come.
We really (in real-life) look forward to seeing our fellow colleagues, researchers, teachers and students someday once COVID-19 abates. We hope you are managing to keep up with us in the digital world in the meantime. Tweet to us: @asps_ozplants and Facebook                                        Image from favpng.com
Science is objective – with a dash of social context: What I learnt from my own 2019 JG Wood Award Lecture
Prof Ros Gleadow, Monash University
President of The Global Plant Council and a Past-President of ASPS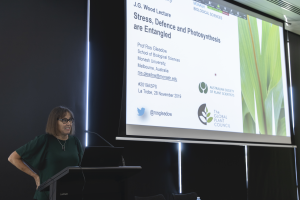 Science is objective and progresses step-by-step. That's what we are all taught and largely that is true. As I've gone on as a scientist, though, it's dawned on me that our science is also influenced by the society in which we live. In my JG Wood lecture, I outlined how my work on cyanide-producing plants, and plant defence theories more generally, has progressed over the years. I described how knowledge of cyanogenesis has built-up incrementally with input from plant physiology, molecular genetics, taxonomy, biochemistry and ecology[1],[2]. I set this in the context of the principles governing how plants allocate resources to growth and defence, and how that may be affected by climate change[3]. About 5-10% of plants produce cyanogenic glucosides, nitrogen-containing secondary metabolites that break down to release hydrogen cyanide when plant tissues are disrupted, for example when they are munched by herbivores. They can also be used to transport and store nitrogen and may even play a role in mitigating oxidative stress.
The paradigms in which I have operated over my career and used to form hypotheses and aid in interpretation reflect the socio-economic context in which they were in vogue surprisingly well. All have merit, but it is worth thinking about the eras when many of these theories were formulated and gained popularity. In the 1960s, for example, the emphasis was on optimal allocation[4] and coevolution (think summer of love). In the 70s this became less friendly, with the advent of ''arms race'' terminology (think Cold War). In the 80s defence theories were all about resource availability[5] and in the 90s the emphasis was clearly on trade-offs and economics (economic rationalism). This progressed further to the "big house, big car" hypothesis[6] where you end up with haves and have-nots. All of these theories have limitations, and all are true in some circumstances, but it is sobering to realise our science may not be so objective after all.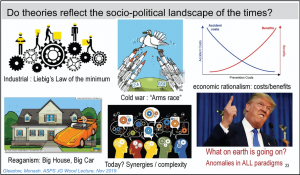 Figure: Somewhat provocative final slide from Ros Gleadow's JG Wood Lecture on plant defence theories. November 2019.
So where are we now? We are moving towards an overriding, global theory that accounts for complexity and interrelationships. This was clear in the title of my talk: Stress, Defence and Photosynthesis are Entangled (think Globalisation?). As I prepared my talk, I turned my thoughts to current world politics and realised the whole world has gone mad! No one knows what's going on! (see Figure). Since November, the world has been shaken by the outbreak of COVID-19. While this pandemic continues, we're all in some kind of holding pattern. When it's finally over, and it will eventually be over, no doubt theories of defence will also change to reflect our new world. I wonder what that will be? Will it be about preparedness and (hopefully) compassion? Or will it be more ruthless. Perhaps we should start thinking about this right now so we can be on the front of the new wave of plant defence theories.  Take care and stay safe,
Ros Gleadow, May 2020
[1] McKey D. 1974. Adaptive patterns in alkaloid physiology. American Naturalist 108: 305-320.
[2] Gleadow RM, Woodrow IE (2002) Constraints on the effectiveness of cyanogenic glycosides in herbivore defence. Journal Chemical Ecology, 28, 1301-1313.
[3] Gleadow RM, Johnson A, Tausz M (2013) Crops for a future climate. Functional Plant Biology 40: 3-6.
[4] Gleadow RM, Møller BL (2014) Cyanogenic glucosides- synthesis, physiology and plasticity. Annual Review of Plant Biology 65: 155-85.
[5] Coley PD, Bryant JP, Chapin III FS (1985) Resource availability and plant anti-herbivore defense. Science 230: 895-899.
[6] Reznick D, Nunney L, Tessier A (2000) Big houses, big cars, superfleas and the costs of reproduction. TREE 15: 421-425.
Mitochondrial Machineries for import, assembly and proteolysis:
2019 Jan Anderson Award Lecture
Dr Monika Murcha, University of Western Australia.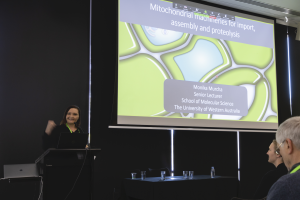 Monika Murcha is a Senior Lecturer at the School of Molecular Sciences, at the University of Western Australia (UWA).  She obtained her PhD in Plant Molecular Biology at UWA and was successful in obtaining an ARC Post-doctoral fellowship followed by an ARC Future Fellowship. Monika established her own laboratory at the School of Molecular Sciences in 2014 and has continued her strong collaboration with Plant Energy Biology researchers at UWA and nationally. Monika Murcha's research has shown that the import of proteins and tRNA from the cytosol is a vital biological point of control for regulating mitochondrial activity, mass and number. She has also uncovered key transporters and receptors necessary for regulating organelle biogenesis, which are indispensable for energy production and optimal plant growth and development.
I am fortunate enough to be able to work towards something that is truly fascinating to me, understanding the complex molecular interactions in the cell that can regulate mitochondrial activity. When I first started my Honours project under the supervision of Prof. James Whelan, I was isolating mitochondria from pea leaves and carrying out protein uptake assays to determine if protein import uptake is a developmentally regulated process. Which it is, and since then I have continued to look for answers to such questions. I have identified key transporters and receptors are vital for regulating the rate of protein import and tRNA into plant mitochondria1, 2. I have discovered dynamic interactions between the mitochondrial protein import apparatus and the respiratory chain3, and most recently, identified novel regulators required for their assembly4. The joy I get from working in the lab and making discoveries, collaborating with brilliant scientists and passing on my skills and knowledge to my students is unbeatable, but being recognised by the ASPS by receiving the 2019 Jan Anderson award is truly amazing.
Murcha et al., Plant-Specific Preprotein and Amino Acid Transporter Proteins Are Required for tRNA Import into Mitochondria.Plant Physiol. 2016 Dec;1724:2471-2490.
Wang et al., The mitochondrial protein import component, TRANSLOCASE OF THE INNER MEMBRANE17-1, plays a role in defining the timing of germination in Arabidopsis. Plant Physiol. 2014 Nov;1663:1420-35.
Wang et al., . Dual location of the mitochondrial preprotein transporters B14.7 and Tim23-2 in complex I and the TIM17:23 complex in Arabidopsis links mitochondrial activity and biogenesis. Plant Cell. 2012 Jun;246:2675-95.
Ivanova et al.,. A Mitochondrial LYR Protein Is Required for Complex I Assembly. Plant Physiol. 2019 Dec;181(4):1632-1650.
Remember, Monday (today) is…………….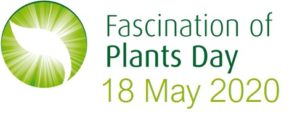 Share your online/digital events on Twitter @PlantDay18May with the hashtags #FoPD and #plantday Also tweet to us: @asps_ozplants
Events for your calendar: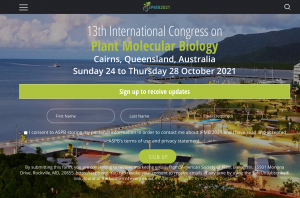 iLEAPS – OzFlux postponed until 2022 new dates soon………….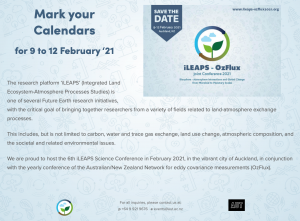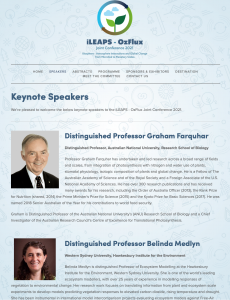 You can email us at the communications website if you have upcoming events to promote, virtual and face-to-face. Please also send us any enlightening stories to share.
Take care and stay safe.