National Science Week 2020 is coming…….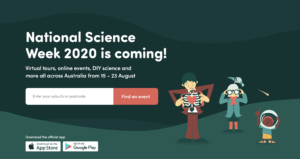 An event at La Trobe University is "Taste Tomorrow"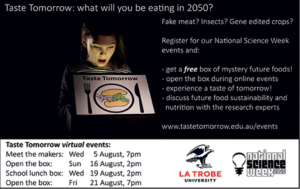 What is the taste of tomorrow?
The year is 2050 and you have just sat down to your insect burger in a genetically modified plant bun with some seaweed dangling out the side and a bowl of native yam chips…sounds delicious, right? What we eat is incredibly important for our health and the sustainability of our planet.
Poor diets are a major cause of health, economic and environmental problems that every country experience. Many have the double burden of both undernutrition coexisting with obesity and other diet-related non-communicable diseases (Global nutrition report, 2020). Producing healthy food sustainably also comes with its own challenges as we battle with climate change, degraded soils, limited land due to urbanisation and the need to protect habitat…all with a population growing to nearly 10 billion by 2050. The need for agricultural researchers, farmers, nutritionists and health professionals to work together has never been more critical. So, what is the answer?
Researchers from La Trobe University will discuss these questions during National Science Week (15 -21 August) in a series of events called 'A taste of tomorrow: fake meat, sautéed spider and lobster lollies?, organised by Dr Kim Johnson from the La Trobe Institute for Agriculture and Food, Susan McLeod in the Dept of Dietetics, Nutrition and Sport and Dr David Hoxley, Dept of Chemistry and Physics. The events explore a range of foods that could be available to us in future that are nutritious and can be sustainably produced. People who register for the events have been sent a mystery box of 'future foods' that they can taste together with the panellists and other attendees at live events.
The project aims to make science accessible to the public in a fun and engaging way, food being something we can all relate to! The events will also make scientists accessible to the public and explore why we choose to eat the foods we do and how they are produced. A range of resources, from experiments, recipes and fact files are also available on the taste tomorrow website (www.tastetomorrow.edu.au) so people of all ages to play with their food!
Author:
Dr Kim Johnson, Senior Research Fellow, La Trobe Institute for Agriculture and Food, La Trobe University
Student reports from La Trobe University ASPS2019
I hope you will enjoy reading the last of student reports from when we met up at La Trobe University last year. I put in the image of the cherry tree and the video of the mimosa for you to enjoy in conjunction with Pawel's childhood memories… read on.
MiingTiem Yong, PhD Candidate, School of Science, Western Sydney University
I am grateful to have had this opportunity to attend the 1st ASPS conference held on 25th – 29thNovember 2019 at Latrobe University in Melbourne as my first career-related conference to broaden my professional development.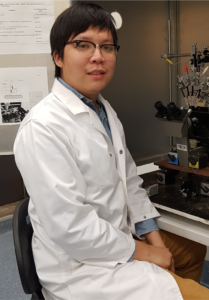 ASPS2019 poster session provided me a very good platform to present my PhD research on salinity tolerance in wild Oryza spp, and the identification and mechanism evaluation for salinity tolerance enhancement in cultivated rice (Oryza sativa). My poster presentation mainly focused on tolerant species identification via electrophysiological measurement and cellular reactive oxygen species and sodium imaging in the mesophyll cells. I really enjoyed this session to explain my results and received a lot of useful feedback from other plant scientists. The outstanding work presented by other participants, were also exciting and inspiring, particularly the valuable messages from Mr James Fazzino, the advanced phenotyping work from Prof Richard Trethowan, salinity-root work from Dr Megan Shelden and all of the incredible stories from the research group.
Paweł Gluza, PhD Candidate, School of BioSciences, Faculty of Science, University of Melbourne
When I was a kid, my grandpa got mad at me once for trampling over his wheat in the fields. "Why bother?!" – I snapped angrily in polish – "they're going to grow back, they always do". He frowned but for a moment and then took me by the hand and took me for a long walk, where a little city boy learned the beauty of nature from a wise old farmer. He opened my eyes to a world of miracles; showed me the sap oozing from a gean tree; led to the marsh where Venus flytraps grew; made mimosas flinch. He encouraged me to observe how daisies open in the morning and how the barley slowly yellows and hunches over its burden. He taught me respect and curiosity; made me the plant scientist I am today. So when I packed my bags and moved to Australia to pursue my PhD in botany, I knew that he would be proud of me.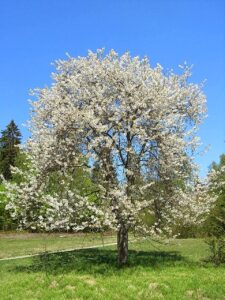 Gean, Wild Cherry, Prunus avian. Image from trees planet
Things have not always been going smoothly. All-nighters were killing my social life, lab equipment simply loved to refuse to cooperate and all the friends and family were left behind oceans. However, one thing that I have noticed about Australian plant community is that everybody was extremely friendly and my colleagues made me feel like home from the get-go. With massive help from their side, I enjoyed a few lucky 'eureka moments' and was lucky enough to be able to show my results at a few conferences.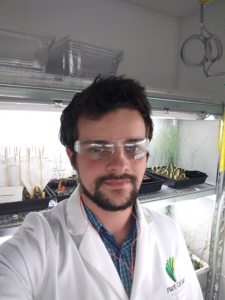 One of the memories I am most fond of is ASPS2019when I travelled to the picturesque suburb of Bundoora to present my work. The sessions were preceded with an integration session for students, where I made new lasting friendships and then all of us entered the room where we stayed for the next three days of neural stimulation, leaving only to refill the coffee, enjoy the fantastic chicken curry pies and observe elusive sugar gliders in the park across the road. While I felt like a teenager on a rock concert to watch my heroes of youth take the stage (that is: people that authored the papers I based my BSc thesis on), I also had the opportunity to actually fire back at them with all the data I packed on my poster (actually a poster and a half, since I co-authored one as well – how good is that?!).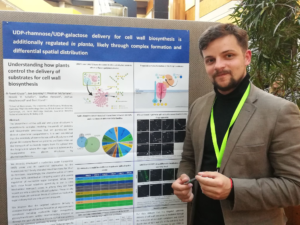 I could never thank the organizing committee enough for making it possible for me to participate in this and I hope that we all meet again. Until then – may we never lose the passion that pushes us towards the discoveries and may our enthusiasm and knowledge make this world eventually a better place.
A huge thanks to the Australian Society of Plant Scientists for organising this fantastic event and the ASPS2019 student travel support. I believe all of the participants are inspired from the ASPS conference. I am looking forward to continuing collaboration at the Combio conference 2022 in Melbourne.
Ying Meng, PhD candidate, School of Agriculture, Food and Wine, University of Adelaide
My research is focused on a better understanding of how gamma-aminobutyric acid (GABA) contributes to the stress responses of plants, using the model plant Arabidopsis (At). During my PhD I have induced Salt stress and hypoxia stress on wild type and mutants. The mutants are GABA-deficient lines, GABA-accumulating lines by GAD2 overexpression or through GABA-T deficiency.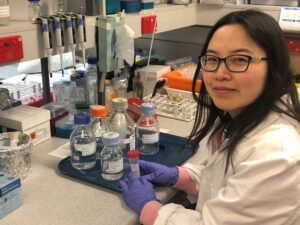 Plant science is always fascinating and full of mysteries. I am grateful for ASPS providing the student travel grant for me to attend the 2019 conference and meet so many people who are doing interesting research and are passionate about plants. Plants cannot move and it seems they cannot do much about all the changes in their environment and so have to adapt to them. Plants are quite smart and plant scientists are trying their best to understand how and why many adaption pathways or signals work.
During the poster presentation sessions, I was fortunate to get some feedback and suggestions, and to meet senior academics. It was such a good opportunity to be able to communicate our work in different specific fields and burst out new ideas. Being a member of ASPS community has encouraged and enlightened me to work harder and discover more about the plant kingdom.
Nick Booth, PhD Candidate, College of Science and Engineering, Flinders University of South Australia
The Australian Society of Plant Scientists Conference 2019 was a great experience to attend as a first year PhD candidate. I was given the opportunity to network with a range of academics whose work I am extremely familiar with but had not had the opportunity to meet. In my opinion, ASPS 2019 was a particularly successful meeting, largely due to the sole plant focus and that there was no overlap between presentations, meaning there was no excuse to miss a great talk!
My research focuses on nitrogen fixation in legume crops, this is a symbiotic process by which a soil-borne bacterium converts nitrogen gas into a form usable by the plant. Heading into ASPS 2019 I had no idea how many people I would meet working in such a similar field. Throughout the meeting I established great connections with many other students and academic staff. One of the more beneficial discussion I had was troubleshooting a transformation method with Courtney Winning of the Djordjevic lab, this protocol is now running a lot smoother in my lab.
Overall, ASPS 2019 was an unforgettable experience and I thoroughly look forward to the next meeting!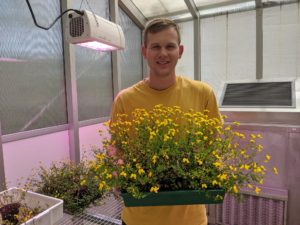 Events
Stay tuned for Plantae Presents talks from our ASPS 2020 award winners.
Peter Goldacre Award – Alex Wu.
Award is proudly sponsored by Functional Plant Biology.
Jan Anderson Award (joint winners)- Kristine Crous and Crystal Sweetman.
Award is proudly sponsored by CSIRO Agriculture and Food, the ARC Centre of Excellence in Plant Energy Biology and the ARC Centre of Excellence for Translational Photosynthesis.
ASPS Teaching Award – Hank Greenway, David Turner, Jane Gibbs and Brian Atwell.
These will be at the end of September and exact dates will be finalised soon.

You can email us at the communications website if you have upcoming events to promote, virtual and face-to-face. Please also send us any enlightening stories to share.
Take care and stay safe.