What to do over the summer holidays……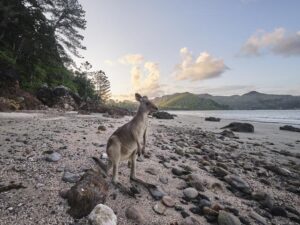 Over the summer holidays we hope you manage to get out into Nature, Rest, Recharge and Rejuvinate like this kangaroo.
Below is a recipe for gingerbread Christmas cookie trees. Look at how the ingredients are mostly plants. You might enjoy the links to read more about each of these amazing ingredients.
Gingerbread Christmas Cookie Trees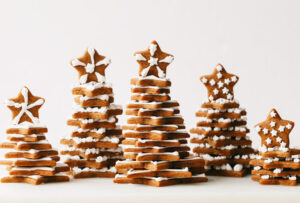 recipe from: Food network
Bake Time: 8 to 10 minutes
Total Time: 2 hours
Servings: 2 dozen, 4 to 5 cookies per tree (depending on size)
Ingredients:
Gingerbread Cookies
3 cups all-purpose flour
¼ tsp baking soda
¼ tsp salt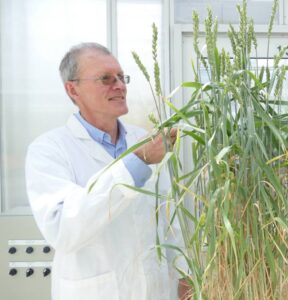 2 tsp cinnamon, 1 tsp ginger
¼ tsp nutmeg
¼ tsp cloves
6 Tbsp unsalted butter, at room temperature
½ cup brown sugar
1/3 cup light corn syrup
1/4 cup molasses                                                                1 to 2 Tbsp water
     Prof. John Evans (ANU) with Triticum aestivum (wheat)
Royal Icing
2 cups confectioners' sugar
1 ½ Tbsp meringue powder, 3 Tbsp water, plus more to thin, 1/2 Tbsp light cornsyrup, ¼ tsp vanilla extract  or lemon juice (optional)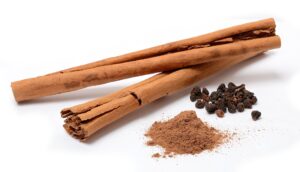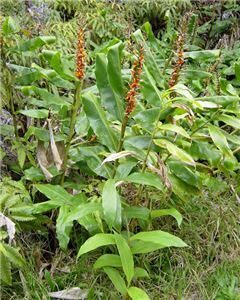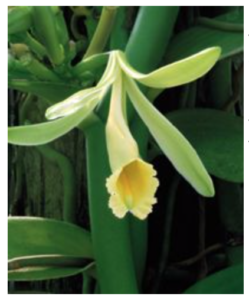 Zingiber officinale (ginger),  Cinnamomum verum (cinnamon) and Vanilla planifolia (vanilla)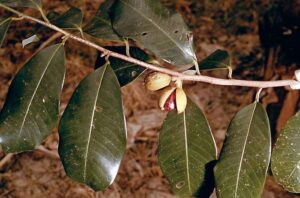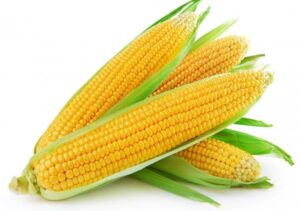 Zea Mays (sweetcorn), Myristica fragrans (nutmeg), Syzygium aromaticum (clove) and Saccharum officinarum (sugarcane).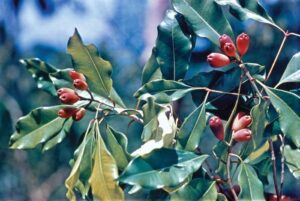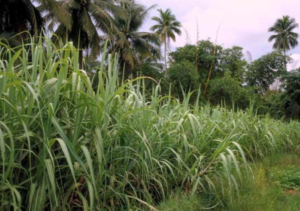 Directions:
Gingerbread Cookies
1. In a large mixing bowl, whisk the flour, baking soda, salt and all of the spices together. Set aside.
2. In the bowl of a stand-mixer fitted with the paddle attachment, mix the butter and brown sugar until smooth, about 2 minutes. Add the corn syrup and molasses and mix until combined.
3. With the mixer on low, add the dry ingredients in two additions. Mix until combined. If the dough seems dry, add in the water and mix until the dough comes together to form a ball.
4. Gather the dough and form into a disk. Wrap the disk in plastic and refrigerate for at least 2 hours or overnight.
5. When ready to bake, preheat the oven to 350°F. Remove the dough from the refrigerator and let sit at room temperature until it is soft enough to roll out (5 to 10 minutes). Line two baking sheets with parchment paper or non-stick baking mats. Set aside.
6. Dust a clean work surface lightly with flour. Roll out the dough until about ¼-inch thick and cut out with various sizes of star cookies cutters.
7. Baked the cookies for 8 to 10 minutes, or until the edges turn slightly golden. Repeat with the remaining dough.
8. Completely cool the cookies on a wire rack before decorating.
Royal Icing
1. Place the confectioners' sugar and meringue powder in the bowl of an electric mixer fitted with a whisk attachment. Gently stir to combine. Add the water and mix on medium-low until combined. Turn the mixer up to medium-high and continue to mix until stiff peaks form, 5 to 8 minutes.
2. Add the corn syrup and vanilla or lemon (if using) and mix to combine. If the icing is still rather thick and clumps together, add more water (a teaspoon or two at a time), until the icing holds stiff peaks.
Assembly
1. Thin the royal icing with water until the desired consistency is reached (for piping, it should resemble the same consistency as toothpaste). Decorate the tops of the cookies, as desired.
Writing papers, STEM, awards and grant success
Congratulations to all and for those who missed out, please keep trying and reach out to to your colleagues for help with your grant, applications and paper writing.
Teaching – From Dr Beth Loveys, Plant Science Education Representative. The University of Adelaide, beth.loveys@adelaide.edu.au
An example of online delivery of practical content in the Faculty of Sciences
Science based courses by their very nature are heavily reliant on giving students practical experiences in the laboratory to facilitate the connection of theory with application and context. Cancellation of all face to face practical classes during the COVID19 pandemic has required creative solutions to be sought to give students some appreciation of the practical components of their courses.
Foundations of Plant Science is a core level II course taught in the School of Agriculture, Food and Wine for Bachelor of Viticulture and Oenology and Bachelor of Agricultural Science students. Combining lecture content with video demonstrations, screen recording and knowledge checking quizzes was used to deliver a virtual practical for students in this course. One of the fundamental concepts taught in the course is that of plant water transport.
During live streamed lectures students were exposed to the relevant theory of plant water transport this was enhanced by demonstrations using the document camera function in the lecture theatre, of the practicalities of measuring plant water status.  Formative in-lecture quiz questions were designed to get students thinking about what they had just seen and heard. Students were able to engage synchronously or asynchronously.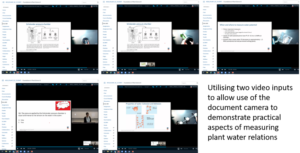 Students were then directed to the relevant MyUni pages in the course to undertake their online practical.
Peer mentors (senior students who had completed the practical in 2019) were engaged to film the practical components of the laboratory session that the 2020 cohort of students were missing out on. Audio narration explained the methodology being demonstrated by the peer mentors. It was important that the practical skills were demonstrated by peer mentors rather than academics to create an authentic practical class experience. Senior Peer Mentor Lucas Allen commented: "It was great to know that I was helping the second year students with their prac. It also helped to refresh my own knowledge of how to correctly use the pressure chamber 🙂."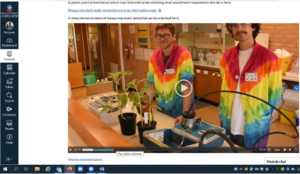 A class data set was provided and screen recording allowed additional explanation of the data and demonstration of required calculations.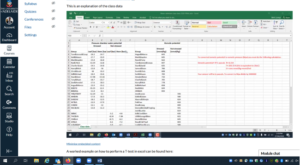 Students were able to check their knowledge with unlimited attempts at a practice quiz before completing the assessment task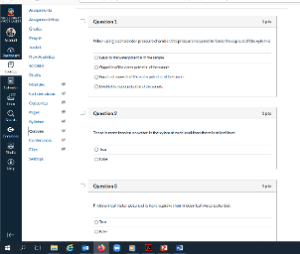 One of the current students commented: "Watching the video made the prac make so much more sense than just being given the data because I could understand the process."
It is important to be aware that students may require more support when undertaking online tasks that replace face to face practicals due to the lack of experiential learning. This may be particularly apparent for kinaesthetic learners.
Below is a students reflection written after taking the course: Food Production in a Future Climate, this year. We hope you find inspiration, lovely work.
What must Australia do to achieve a Climate –Resilient agriculture?
Climate change is here, extreme weather events are now more frequent, but has this been totally or partially induced by the activities of humans? Despite that question, there is a range of things we must do as a nation, to reduce the impact.
Initially, we will need to reduce all chemicals used to grow food and at the same time grow plants that are suitable.
Secondly, we could use energy that is not dependent on fossil fuels.  We could create colonies of the correct algae and low rainfall  growing succulents to be used to manufacture bio-fuel so that all the solar and wind generated electricity (energy) is assisted by the use of this bio-fuel. Converting CO2 from the atmosphere to a hydro carbon fuel would achieve a similar result.
Reduction of the waste generated in all sectors of industry, agriculture and commerce is essential.  To achieve that we will need to start our children's education at home, then at school so they understand waste may come in many forms : eg. food that is not fully utilised because it's been left to be overripe, there are too many leftovers thrown out after meals, or even that the lights are left on in the house .The damage done by feral animals is another form of extreme waste of plant food which results in  the destruction of our environment . Natural recycling of organic matter will do that after we rid ourselves of these animals.
Water is our most critical resource, and that will mean developing plants that have greater water use efficiency, plus improving the care of soils to ensure we eliminate erosion. This will maximize the water that enters the soil profile. Once there, it can be used by the plant and at the same time, supplementing both the sub-soil and the aquifer.
However, we appear to have an abundance of salt water.  At the same time, we need to pay attention to the plants that grow under the surface of the sea.  Promoting the use of marine plants and algae, plus including the development of more salt tolerant plants, in particular those that produce food, will be essential.
Measurement of the effect of climate change to develop models for future prediction of rainfall and temperature will allow us to make decisions about which plants, C3 ( winter active ) or C4 (summer active ) will be the most suitable to grow and where.
Revegetation using trees, shrubs, forbs and grasses will need to be correctly landscape designed to suit the soil, and the topography of each hectare of land.  This design (promoting biodiversity) would look at placing food crops using multiple species that allow for the interaction between plants ,animals and soil-biota.  With the recycling of all nutrients, in particular carbon and nitrogen we can promote a balanced ecological environment that is more productive.
The concept of "recycling" refers not only to our food waste, but to all that enters our waste bins or is taken to our dumps.  After all, promoting healthy compost is a primary example of recycling that can be achieved by any household.  At the same time, reducing the number of items sent to landfill will reduce the methane gasses produced as these items slowly break down.
The balance between the cutting of trees (to produce packaging, as in cartons and paper bags , from only plantation timber) and the use of plastics needs detailed study for each application, and if plastics is the best way to go, the development of that material must come with an economic cost to recycle.  Or be replaced by materials similar , "plastic substitutes" – like bags made from sugar cane, industrial hemp or jute, or straws made from millet, cereal rye or bamboo.
While some of these ideas are current, continued field research to find what is consistently sustainable is a must.  And this would be best achieved through a national initiative rather than waiting for industries or commerce.  Funding national bodies similar to the CSIRO, with links to university groups is paramount.  But if the same research is not done in the lab or glass house by plant breeding groups or individuals there will be nothing in the field to trial.
At a grass roots level, supporting suburban and rural interest groups like Trees for Life or community gardens, would encourage all areas to grow more plants so that we maintain the bio-diversity of the old-style household that was partially self-sufficient in food. (Do not underestimate backyard horticultural crops and chickens). We need to limit the use of chemicals, working towards almost pure organic matter from compost heaps, maybe using chicken manure or similar as an added fertilizer. This can be achieved with more community gardens, potted plants and vertical growing systems in high rise buildings all with butterfly and bee colonies on the roof tops.
Ultimately, farmers will need to do the same. Sustainable farms will need Soil Biota Colony/Pods with plants nearby to attract bees, butterflies and good bugs, located near each stock trough to provide moisture so that fungi, frogs, worms and bacteria keep active and alive, all summer. Growing of summer active plants will also keep the soil alive and provide some protection from fire and flood  In time, a modern nation will need to develop these farming methods on an economically viable scale.  At the same time Bio-Security will become the accepted practice .
But ultimately, peace between nations and the people of the world (we must help each other), will result in much stronger leadership than we see at present. This is essential to promote the modifications we must make to tackle the damaging effects of climate change.  In many cases, we know what we need to do, but we need the impetus to change current practices.
Check your membership, renew and encourage your students

Events
Please let us know (@asps_ozplants) if you have any interesting events.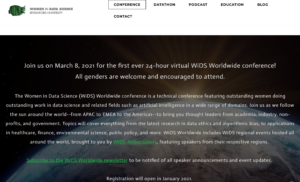 Besides staying safe, we wish you a Merry Christmas and a Happy New Year.