Welcome to Phytogen for September 2021.
It is two months until our meeting. Hope you are all managing to write and submit abstracts. Registration is now open for our 2021 ASPS hybrid conference on the 25th of November 2021.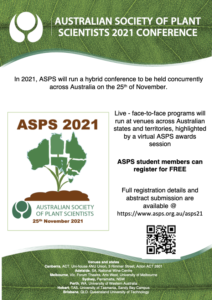 In the lead up, we would like to collect feedback from our members on our Diversity and Inclusion Policy. Here is an introduction from Past President Professor Kathleen Soole, Flinders University and President Dr Peter Ryan, CSIRO ACT:
Science and Technology Australia is Australia's peak body in science and technology, with a mission to advance the public good and social and community welfare and strengthen society through education outreach and programs. ASPS is an active participant in this group.  In 2018, our Honorary Secretary that year, Dr Vanessa Melino, attended the Science and Technology Australia (STA) Annual general meeting, where discussions focussed on how our scientific societies are dealing with diversity and inclusion in their membership and activities. An outcome from this meeting was the development of a draft Diversity and Inclusion Policy put together by Drs Vanessa Melino, Eloise Foo and Megan Shelden, which was presented and supported at the ASPS 2020 AGM. ASPS strongly holds that there is no place in our Society, or in the wider community, for any discrimination on the basis of race, religion, gender, sexuality or disability. Indeed, the Society believes that creativity and progress are stifled when any of these factors impact its members. This Diversity and Inclusion Policy Statement is a "living" document that encourages discussion and revision. It provides our Society with the opportunity to formulate policies and activities that will uphold these values into the future.
We welcome your feedback (participate in mentimeter) on this document for discussion at our 2021 AGM and endorsement for its inclusion on our website.
ASPS Diversity and Inclusion- You are welcome! You are heard!
As the representative body of the leaders in Plant Sciences in Australia, we want to encourage plant science training and workplaces to be welcoming, diverse, inclusive and equitable.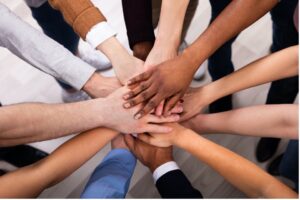 Our meeting checklist- use this to develop events that are welcoming, inclusive and equitable
aim for gender parity in selection organisers/chairs/speakers
consider career stage, cultural and linguistic diversity when selecting these positions
include a welcome to country in our activities
encourage inclusive and respectful behavior
if possible, include a "noisy room" with talks streamed to this room to enable people to bring kids if needed ensure there are facilities for breastfeeding and the location is included in meeting information
Our prizes and awards
When assessing applicants for various ASPS awards, consideration will be given for research output relative to opportunity. This means applicants that have experienced career interruptions due to caring responsibilities or illness will only be assessed relative to opportunity.
Jan Anderson Award A specific award to showcase early to mid-career women plant scientists.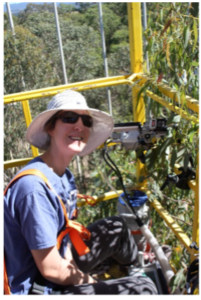 " Getting the Jan Anderson Award was a great recognition of my research to understand plant responses to both elevated CO2 and climate warming, including my contribution to several global datasets. It was important to be recognised by peers in Australia, especially during a tough year for mental healthy (COVID). The award led to an invitation as a discipline representative of Whole Plants for ASPS."
Dr Kristine Crous, joint Jan Anderson award 2020.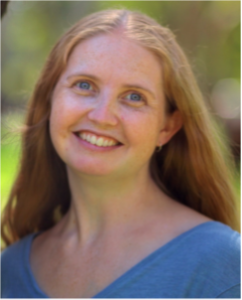 "The Jan Anderson Award aligns so nicely with the society's mission to promote Australian plant research in a collaborative and fair manner, by simultaneously pushing for gender equity and fostering the development of early/mid-career researchers. Since receiving this, my first major award as a researcher, I have gained confidence to engage with more funding opportunities and career development programs, which will ultimately help me become a more independent and well-rounded plant scientist. I believe it is essential for awards like this to exist, but also so important to encourage our female (and often reluctant) co-workers, to nominate. Whether career focussed, or divided between career and family, I feel that many women sell themselves short and will greatly benefit from honest encouragement. I wouldn't have done it without a little push from my own co-workers and collaborators!"
 Dr Crystal Sweetman, joint Jan Anderson award 2020.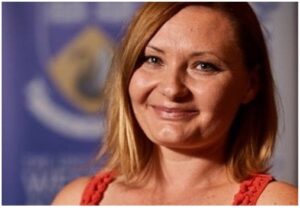 "I am truly honoured to win this prestigious award, especially as Australia has so many wonderful female plant scientists. I am completely fascinated by the complex interactions within a plant cell and I am driven by the discoveries we make in the lab. I hope that I can encourage a passion for plant science and be a positive role model for a career in plant research,"
Dr Monika Murcha, Jan Anderson award 2019.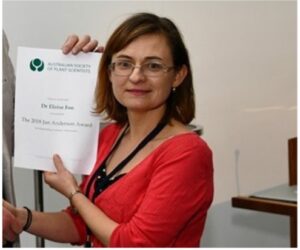 "I was so honoured to receive the inaugural Jan Anderson Award in 2018. Delivering the lecture at Combio 2018 to such a warm and supportive community was a true highlight and enabled me to reflect on the fantastic mentors and colleagues I have had. I feel real change is afoot to enable people to balance a research career with all the other great things in life (family, leisure time, community). This is not just to support women to navigate the challenging but rewarding path to a research career but also opens up a different way for everyone to lead successful and balanced lives."
A/Prof Eloise Foo, Jan Anderson award 2018.
We hope each of you can devote some time to reading the policy and then participate in the mentimeter. It will remain open until our November meeting giving plenty of time to receive your ideas. They are anonymous and will be populated in the window below. You can participate and add as many suggestions as you like.
Please keep your ASPS membership up to date and encourage your colleagues and students to join ASPS.
Tweet to @asps_ozplants your news and upcoming events.