The year is under way and hope you are managing to settle into your studies, experiments and teaching. As Peter has said ASPS awards are closing 28th March 2022:
Dear ASPS Members,
Reminding you many of our ASPS award applications are closing at the end of the month.
ASPS Awards for 2022: We encourage applications for our annual awards. These include the Goldacre Medal, the Jan Anderson Award, the Robertson Travelling Fellowship and Education and Outreach Award. Deadlines are 28 March and details are available HERE.

ComBio 2022: 
ComBIO 2022 (Melbourne, 27-20 September 2022) includes, among many others, a Plenary Address from Jennifer Doudna, the Nobel Laureate for her work on gene editing. ComBIO is a combined meeting organised by several societies involved in biological sciences. Details at  https://combio.org.au/combio2022/information.html.
Importantly, student members of ASPS can apply for funding to attend this meeting and details will be released soon. Student poster prizes will also be awarded.
Thanks, Peter
Dr Peter R Ryan
President, Australian Society of Plant Scientists
Honorary Fellow, CSIRO Agriculture and Food
To inspire your applications, here is an article from Joanna Melonek, ASPS 2021 Peter Goldacre Medal Recipient. You will read that the wheat genome is complex but Joanna has conveyed her work with enthusiasm making it interesting and intriguing. It is lovely that she has managed to carry out her research with such nice collaboration too.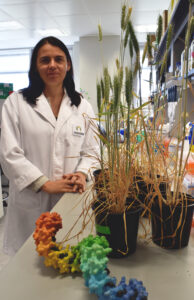 After completing PhD studies at the Christian-Albrechts-University in Kiel, Germany, in 2012 I moved to Perth to study the pentatricopeptide repeat protein (PPR) family at the ARC Centre of Excellence in Plant Energy Biology at The University of Western Australia. The aim of my research is the genomic and molecular characterisation of restorer-of-fertility-like (RFL) genes, a specific clade within the PPR family, and their application to hybrid breeding in crops.
The Peter Goldacre Medal recognises my contributions to the genome-wide analyses of the RFL clade in rice1, barley2, wheat3,4, and rye5. My analyses revealed the evolutionary plasticity of RFL genes in cereals and proposed mechanisms that drive the creation of new gene variants capable of suppressing the expression of novel mitochondrial genes that cause cytoplasmic male sterility (CMS).
Joanna with wheat plants and a 3D model of a PPR protein. Photo Karina Price.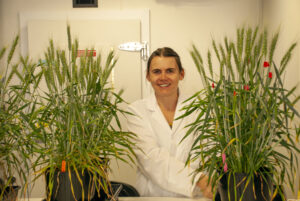 Joanna with hybrid wheat plants. Photo Julie Leroux.

Hybrid varieties, when available for a given crop, are favoured for their attractive agronomic traits and higher and more stable yields. However, for many staple crops like wheat or barley, hybrid seed production on a commercial scale remains difficult. The major limiting factor is the absence of an efficient way to control self-pollination. An approach that has been applied successfully in other crops uses CMS induced by a gene encoded in the mitochondrial genome, and nuclear RFL genes able to overcome this sterility in the hybrids (Figure 1)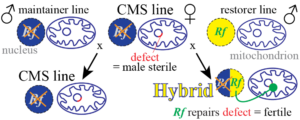 Figure 1. Three-line hybrid breeding system in cereals. The male sterile (CMS) line can be crossed to a maintainer line (left) to be perpetuated or, to generate a hybrid, exposed to pollen from a restorer line (right). This seed grows with hybrid vigour and stays fertile because the Restorer-of-Fertility (Rf) protein can repair the mitochondrial defect
Taking advantage of this recent progress in the availability of genomic resources in wheat, I developed genomics and molecular approaches that enabled the cloning of the Rf1 and Rf3 fertility restorer genes in wheat6.
We were trying to find those genes for some time, and it felt like we are looking for a needle in a haystack due to an extraordinary complexity of the wheat genome (Figure 2A). Therefore, when one day my collaborators send me a picture of transgenic plants showing the phenotype that we were looking for, we were ecstatic! (Figure 2B)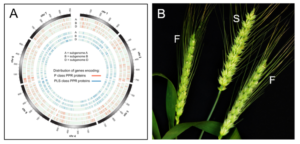 Figure 2. The extraordinary complexity of the wheat genome. A. 1686 PPR genes were identified in the wheat IWGSC RefSeqv1.0 genome. B. Picture of wheat spikes of transgenic wheat plants producing anthers (F-Fertile) and a wheat spike unable to produce anthers and functional pollen (S-Sterile). Photo Laurent Beuf (Group Limagrain).
With the assistance of researchers from Limagrain (the 4th largest seed-producing company in the world), I was able to show that both genes are able to restore fertility of wheat plants carrying Triticum timopheevii-type CMS (T-CMS). Furthermore, I was able to identify orf279 as the mitochondrial gene responsible for preventing pollen production in wheat and causing sterility. The discoveries described in the article were the basis of two patent applications and are currently used by Limagrain in their hybrid breeding programmes.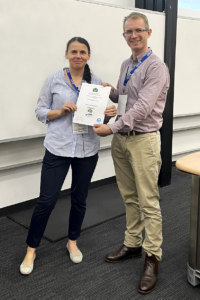 The Peter Goldacre Medal is a great recognition and confirmation from my peers and the broader plant scientific community that they find my work interesting. Therefore I'm truly honoured and thankful to the Australian Society of Plant Scientists and the very vibrant plant community in Australia for it. Of course, this all would not have been possible without the support from many people who accompany me on my scientific journey, and I'm very grateful to all of them for that!
Joanna receiving the Peter Goldacre Medal. Photo Muhammad Kamran.
References:
Melonek J et al. (2016) Evolutionary plasticity of restorer-of-fertility-like proteins in rice. Sci Rep. 24:35152. doi:10.1038/srep35152
Melonek J et al. (2019) High intraspecific diversity of Restorer-of-fertility-like genes in barley. Plant J. 97(2):281-295. doi:10.1111/tpj.14115.
The International Wheat Genome Sequencing Consortium (2018) Shifting the limits in wheat research and breeding using a fully annotated reference genome. Science. 361(6403). doi: 10.1126/science.aar7191.
Walkowiak S et al. (2020) Multiple wheat genomes reveal global variation in modern breeding. Nature. 588:277-283. doi: 10.1038/s41586-020-2961-x.
Rabanus-Wallace MT et al. (2021) Chromosome-scale genome assembly provides insights into rye biology, evolution, and agronomic potential. Nat Genet. 53:564-573. doi:10.1038/s41588-021-00807-0.
Melonek J et al. (2021) The genetic basis of cytoplasmic male sterility and fertility restoration in wheat. Nat Commun. 12(1):1036. doi: 10.1038/s41467-021-21225-0.
Fascination of plants day (FoPD22) is approaching in May. This international event is always on the 18th May.
If you would like to organise an event during May anywhere in Australia, email: georgia.koerber@adelaide.edu.au and events can be added to the Australian site.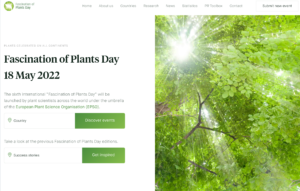 Due to Covid-19, events for all countries the last couple of years have been disrupted and recent posts in the lead up to FoPD2022 take a look back featuring many countries events from years prior to COVID. The one in 2019 with Ukraine is poignant.
Since the very beginning of March 2022, the European Plant Science Organisation (EPSO), the American Society of Plant Biologists (ASPB) and several international scientists have been calling for labs to offer temporary and permanent positions for Ukrainian scientists and students. ASPS is also investigating whether we can arrange something more formally as a society.
The Global Plant Council has a webpage of resources: https://globalplantcouncil.org/resources/resources-for-refugees-of-the-ukrainian-war/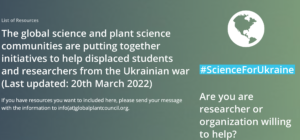 Lastly, 23rd March is National Eucalypt Day! Congratulations Eucalyptus regnans #EucalyptoftheYear