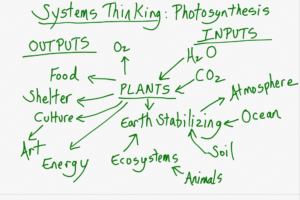 Welcome to Phytogen for April 2022,
Our politicians are on the campaign trail and to get you thinking, here are reports from Science Meets Parliament 2022 introduced by Peter Ryan.

Science and Technology Australia (STA) is an umbrella organisation that represents 90,000 STEM professionals in Australian from ~60 member societies and associations. STA regularly surveys its members to develop STEM-related policies that are then presented to governments, private enterprises and other stakeholders. One of the major STA events organised each year is Science Meets Parliament which facilitates direct interactions between scientists, lobbyists and politicians. The participants hear talks from leading scientists and gain insight into parliamentary processes and policy development. The participants also learn from experienced staffers about how best to approach politicians and pitch ideas for maximum impact. The whole experience is a rare and valuable opportunity that will hopefully empower more researchers and academics to effectively communicate their ideas, aspirations and concerns directly to decision makers. Members of STA send two representatives to Science Meets Parliament each year and for 2022 ASPS was represented by Megan Shelden (University of Adelaide) and Benjamin Schwessinger (ANU). Their reports are attached below.
Although held in a busy part of the academic year, Science Meets Parliament is a rewarding experience. ASPS members interested in participating in 2023 should lookout for messages in Phytogen early next year.
Peter Ryan (President ASPS).
Megan Shelden, School of Agriculture, Food and Wine, Faculty of Sciences, Engineering and Technology, University of Adelaide.
I had the pleasure of representing the ASPS as a delegate at Science Meets Parliament in 2022. Due to the ongoing pandemic, the event was held online over 5 days. Despite this, I found the event to be a very valuable experience and thoroughly enjoyed the sessions.
Science meets Parliament 2022, kicked off with a wonderful Welcome to Country by Ngunnawal Elder Wally Bell. This was followed by the opening keynote address by the inspiring Nobel Laureate Professor Peter Doherty. Professor Doherty has become an avid science communicator and "twitter sensation" over the course of the pandemic. In the Professors' words "You cannot convince everybody but you can engage anyone with respect".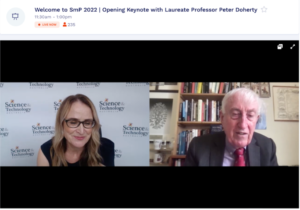 Panel sessions highlighted the need to communicate our science effectively and gave us many practical tips on how to engage with parliamentarians and really make the most of our meetings with Members of Parliament. I particularly loved the "Marie Kondo your writing" session with Mischa Schubert (CEO of Science and Technology Australia) – so many writing tips that have already helped me enormously!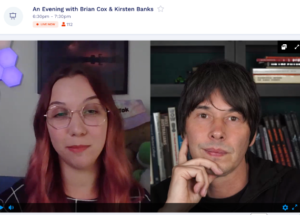 There were so many highlights in the program: Professor Brian Cox and astrophysicist Kirsten Banks gave their tips for effective science communication, the National Press Club Address by Professor Mark Hutchinson, and the final session, a commercialisation masterclass with Australia's Chief Scientist, Dr Cathy Foley.
I was very fortunate to participate in a zoom meeting with Ms Kate Thwaites MP, the federal ALP member for Jagajaga, with two other Science meets Parliament delegates Dr Kelly Walton (UQ) and Dr Hamish Brown (UniMelb).  We discussed the importance of food security, particularly in light of the recent floods in Australia and climate change. We also discussed the need for government to continue to invest in scientific discoveries.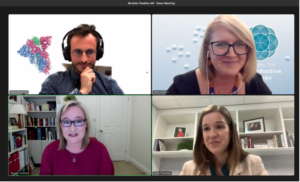 I would absolutely recommend attending this event if you get the opportunity. I would love to attend Science Meets Parliament again in the future (in-person!) and am very much looking forward to the National Gala Dinner to be held in June 2022.
Benjamin Schwessinger, Research School of Biology, ANU College of Science, ANU
Politics needs Science and Science needs politicians.
As scientists is it worth our time to engage with politicians and politics? Like many other high performances high pressure professions, we scientists are time poor and too often too busy with too much busy work. So, it begs the question if adding another item to the to-do list is worth the effort.
One day early summer 2021 our ASPS president, Dr. Peter Ryan, invited members to join Science Meets Parliament 2022 (SMP22). I said "yes" of course, it being held in a far distant future without an overloaded schedule, just yet. I always had a great interest in politics and politicians as my father was actively involved in regional politics for over four decades including being major of my hometown for three.  SMP is a Science and Technology of Australia flagship event that brings together scientists, public servants, policymakers, and politicians for about a week to learn from each other and to network. It all started in 1999 as a small friendly face-to-face event, yet this year's SMP22 was unfortunately another online event due to COVID19. The event itself was a series of classic lectures, panel discussion style workshops and virtual networking events one could attend live or catch up on during the week. Besides skill building this year's focus was on indigenous knowledge and panel members where often the who-is-who of Australian Science and Technology including multiple Nobel Laureates, CEOs, and prominent media figures. Some of the sessions worked well while others suffered from the online format, at least for me. I would have preferred to randomly bump into people, to start spontaneous conversations in hallways, and get to know people who might or might not be of benefit to know some years down the track. Path can be very short if you know the right people I learned early on in my life.
My personal highlights were the National Press Club address with Professor Mark Hutchinson and meeting parliamentarian Maria Vamvakinou.
The Press Club dinner was delicious while the address was a bit disappointing. For my taste Prof. Hutchinson's address was too much self-involved, ego driven stardom with "bench to boardroom" talk that praised recent government investment into translational science. Of course, additional investment into science is very welcome. We in Australia clearly need to get better in converting yesterday's wonderful basic science investment into commercial outcomes today. No question. Yet Prof. Hutchinson could have warned the audience more explicitly that we need to invest more into the whole knowledge generation to translation pipeline because without out groundbreaking basic science today there will be nothing to commercialize tomorrow.
Our group conversation with MP Vamvakinou was impressive as she came very well prepared to the discussion with clear objectives wanting to learn more and to listen. Maria was very engaged, fully on top of it, and very smart. One topic that really hit home with me is that Australia has a wide-ranging skill shortage in many STEM related sectors which holds back the economy. This was reiterated several weeks later at another National Press Club event hosting Minister for Agriculture and Northern Australia David Littleproud, which was sponsored by Crop Life.
Us scientists have a clear role to play here, at universities and other research organizations. We train the future workforce who will step into leadership roles, be it in politics, the public service or industry. Delivering world class education in STEM is a very significant contribution to Australia's economy. Of course, our basic science has the potential to be transformational if it is supported in with the right frameworks. So, all our science needs funding and science funding needs advocacy at all levels. We as scientists need to listen to policy makers and public servants to identify joined problems and to engage in meaningful conversations. We all have our role to play, one-on-one during spontaneous hallway conversations or via our scientific societies. It is well worth our time to patiently and levelheaded illustrate the worth of our combined research pipeline to society. If not some of us who else?
In May is Fascination of plants day (FoPD22). This international event is always on the 18th May. If you would like to organise an event during May, email: georgia.koerber@adelaide.edu.au and events can be added to the events site.
.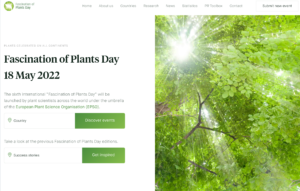 Please login and check your ASPS membership is up to date. Encourage your colleagues and students to join ASPS. Go to: https://www.asps.org.au/members/join
Tweet to @asps_ozplants your news and upcoming events.