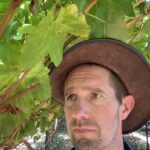 Website vinebiology Considine Lab
We're now advertising two fully funded PhD scholarships. Please share this with your networks. This is available to international applicants.
To apply, please complete the expression of interest form here, directing your application to the lab of A/Prof Michael Considine; https://form.jotform.com/210188245709862
The scholarships are available until filled.
Context: Table grapes are the most valuable fruit crop worldwide and have emerged as a model scientific crop for studying climate change effects on growth and sustainable production. Presently, growth in tropical and subtropical climates is incredibly challenging; understanding how to improve production is the key to unlocking a multi-million dollar industry in northern Australia.
In this project, you will use advanced physiology and biochemical approaches to understand the phenology of tropical-grown grapevine by manipulating growth with physical and chemical interventions. You will extend your knowledge in plant biology and work towards high-level publications in international journals. You will have opportunities to travel and interact with industry leaders in western and northern Australia as you contribute to a larger program of work studying this problem.
Selection criteria (in addition to standard admission requirements):
Demonstrated knowledge of plant physiology, biochemistry or molecular biology.
Competence in data handling and analysis
Competence in analytical chemistry or biochemistry
Fluent communication skills
Excellent time management skills
Cheers, Mick
A/Prof Michael Considine
#horticulture #viticulture #tablegrapes #climate #tropical #stress #partitioning #bunchabortion